Most of you know I had the opportunity to participate in World Book Night back in April. A week ago I got to go back and talk to the students that received my copies of The Lightning Thief.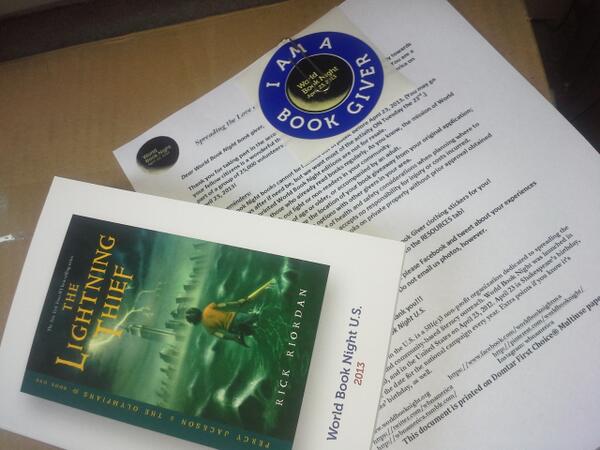 So on April 23rd I took this box of books to Lakeside Middle School.
Here are some of the students listening to me talk about the book and asking if I could come back to discuss what they thought of the book. (Yeah, I totally took cupcakes
)
This is all the students holding up their copy of The Lightning Thief. I am there in the middle… I love this picture.
A week ago I got to go back and follow up with the students and listen to what they thought of the book. here are a few of the questions I asked and my favorite answers:
What was your favorite part of the book?
I really liked the part when Percy is going to camp Half Blood and fights the minotaur.
I think all the action in this book was a big draw for all the guys.
If you were a Half Blood who would you want your parent to be and why?
I will go ahead and say many students said Zeus and Poseidon for obvious reasons but one answer really got me.
I would want Athena to be my mom because then I could be sisters with Annabeth. I really liked her character and I think she would be nice to be around.
Um, can I just say my heart melted a little bit.
Who was your favorite Character?
This ended up going into a vote and guess who won…
Grover!
I thought that was awesome… He is my favorite satyr
;)
Being a World Book Night Giver has been an amazing experience! From receiving the books, giving the books out, to following up with the kids a month later. I hope to do this again next year.
Do you think you will apply to be a giver next year?
I know I will!