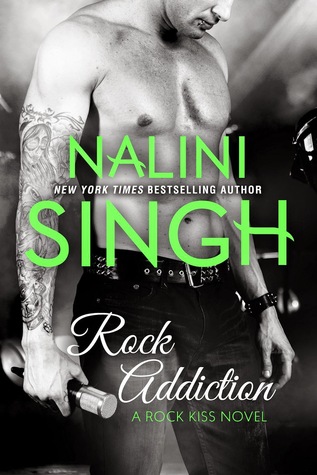 Rock Addiction
Nalini Singh
Series: Rock Kiss
Paperback: 404 pages
Genre: New Adult
Publisher: TKA Distribution
Released: September 11, 2014
Source: publisher



A bad boy wrapped in a sexy, muscled, grown-up package might be worth a little risk…




Molly Webster has always followed the rules. After an ugly scandal tore apart her childhood and made her the focus of the media's harsh spotlight, she vowed to live an ordinary life. No fame. No impropriety. No pain. Then she meets Zachary Fox, a tattooed bad boy rocker with a voice like whiskey and sin, and a touch that could become an addiction.





A one-night stand with the hottest rock star on the planet, that's all it was meant to be…




Fox promises scorching heat and dangerous pleasure, coaxing Molly to extend their one-night stand into a one-month fling. After that, he'll be gone forever, his life never again intersecting with her own. Sex and sin and sensual indulgence, all with an expiration date. No ties, no regrets. Too late, Molly realizes it isn't only her body that's become addicted to Fox, but her heart…
I tried to make this as spoiler free as possible.
Anyone that knows me knows I am a HUGE Nalini fan. Her Psy-changeling and Guild Hunter series are my favorite PNR series of all time! I am not however a big new adult genre fan, but when I heard about this contemporary new adult romance by my fave author I was so excited to get to this read.
What I loved
I could honestly feel the attraction and pull between Molly and Fox (Our main characters) From the very first page. Yes! This is an insta-lust right from the start kinda read, but that did not bother me, it is also a romance with a rock star main character, I was expecting the insta-lust. Have I read rock band/star romance reads before? Yes! But, in true Nalini Singh fashion she gave her characters depth and turned them into real people for me and made me care about what made them tick.
I really loved Fox! After he discovered what he wanted he went after it no mater what it takes. I enjoyed this because it was obvious from the start that he is a character that normally gets what he wants (or Fox throws a tantrum and people give into him) and now Fox needs to work at it. It was nice to see his growth through Rock Addiction.
What I didn't love
The sex became filler in Rock Addiction. I do not mind at all if there are smexy times in an adult read, but honestly I felt like visiting with some of the other characters, or somehow progressing faster in Molly and Fox's story line than reading about them going about it yet again. I began skipping just to get to actual story.
Should you get a copy
If you are a big Contemporary New Adult genre fan that enjoys many smexy times in your reads give this a go. This is not your usual Nalini Singh read! If you are looking for a recreation of Singh's PNR work this may not be for you. This is very much a first in the series book. I do want to continue with other characters that I met in Rock Addiction.
Happy reading