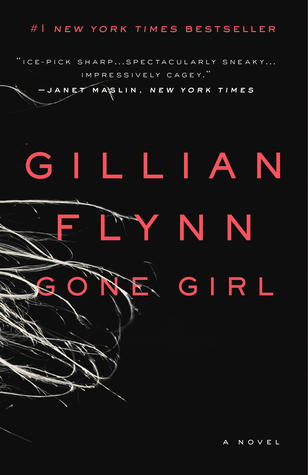 Gone Girl
Gillian Flynn
Publisher: Crown
Published: June 5, 2012
Source: My shelf


Goodreads

–

Amazon





On a warm summer morning in North Carthage, Missouri, it is Nick and Amy Dunne's fifth wedding anniversary. Presents are being wrapped and reservations are being made when Nick's clever and beautiful wife disappears. Husband-of-the-Year Nick isn't doing himself any favors with cringe-worthy daydreams about the slope and shape of his wife's head, but passages from Amy's diary reveal the alpha-girl perfectionist could have put anyone dangerously on edge. Under mounting pressure from the police and the media—as well as Amy's fiercely doting parents—the town golden boy parades an endless series of lies, deceits, and inappropriate behavior. Nick is oddly evasive, and he's definitely bitter—but is he really a killer?
Gone Girl book trailer
I don't quite know how to feel about Gone Girl. It left me feeling a little confused, a little lost.
There was so much good in Gone Girl. I really enjoyed the first part of the book. I wasn't sure about Nick…I liked him and I didn't at the same time. He was a little shady, but likeable, but I just didn't trust him. I liked that Flynn didn't just lay it all out there, that there was a lot of unknowns. I also really liked the diary entries from Amy's POV. I feel that they gave major insight into things.
And then there's the woodshed. And everything that happens after it. And it's, well, strange. Things take a very, incredibly unusual path. Not paranormal or sci-fi. There's no time travel, or portals to other worlds. But either of those plotlines would have been more relatable than what Flynn wrote. I just don't get it. I still, days later, haven't wrapped my mind around it.
And there's no closure. At all.
I ranted about this book for days after completing it. And, honestly, I'm still not 100% sure how I feel about it.
Gone Girl will be coming to theaters October 3 2014.