To hop over to other tour stops click the banner above.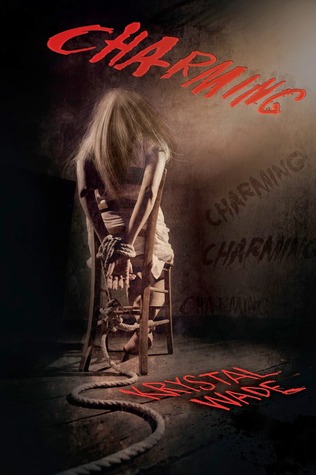 They say what doesn't kill you makes you stronger, and that's great . . . as long as you don't die.




Sixteen-year-old Haley Tremaine had it all: top-notch school, fantastic family, and a bright future, but all of that changed when an accident tore her family apart. Now, an alcoholic father, a bitter younger sister, and a cold headstone bearing her mother's name are all she has left.




Chris Charming has it all: a powerful CEO for a father, a prestigious school, and a fortune at his fingertips, but none of that matters when he lands a reputation as a troublemaker. Struggling to follow in his father's footsteps, he reaches out to the one person he believes truly sees him, the one person he wants: Haley.




Little do they know someone's determined to bring the two together, even if it means murder.



Available at:

Smashwords

-

Barnes & Noble

–

Amazon

–

Goodreads
Excerpt: CHARMING by Krystal Wade
"Hey, kids." Mrs. Charming stood by their feet, smiling down at them, still linked to her husband. "We should head out. Park closes at dark. Plus your dad and I have a movie to go see."
Chris drove Haley back to his house; both sat quietly, leaning somewhat toward the center of the small Porsche. He pulled up next to Dad's truck and sighed. "Thank you for being so good to them."
"Chris—"
"No, I mean it." Chris opened the truck door for her, then closed it as she slid onto the cold leather seat.
Haley rolled down the window and leaned on her elbow, so close to him, so freaking close. "They're good people."
And deserve better than me in their life.
"Most people treat them as if they're just money bags from which to draw upon when they have a need."
"I don't need anything from them. I just want your family to be happy, you to be happy, Chris."
"You're different, Haley Tremaine."
"So are you, Chris Charming." Haley turned the key in the ignition, but the truck wouldn't start. Cold, stabbing panic ripped apart her lungs.
"Guess I'll need to walk."
"You're nuts if you think I'm letting you walk. Murderer on the loose, remember?" Laughing, Chris opened the door and took Haley by the hand, then guided her to the driver's side of his car. "In fact, I'd really like you to drive."
She smiled and snatched the keys. "Okay. Fine, but you better wear your seatbelt."
He did, and she drove, and they laughed, winding down country roads, passing cars as though they sat still and Chris and Haley were in a speeding bullet. Haley downshifted and squealed the tires as she stopped in front of her house on Main Street. But when she glanced at the front of the house, her heart skidded to a halt.
Niles sat on her porch, bouquet of flowers in hand, scowling.
a Rafflecopter giveaway
Meet Krystal Wade, author of CHARMING
About Krystal Wade: Krystal Wade is happily married to the love of her life (don't gag) and raising three beautiful children in the gorgeous state of Virginia. They live just outside Washington, D.C., and every day she wakes up to find herself stuck in traffic trying to get there. When she's not working, commuting, or chasing after her three children (four if you count the man), you can usually find Krystal outside talking to her chickens like they're the cutest things in the world (they are), or training her amazing dogs how to herd said chickens (which they love), or curled up on the sofa with a good book (why can't that be 100% of the time?).


Website

–

Facebook

–

Twitter

-

Google+

–

Goodreads

–

Instagram

–

Tumblr
Sounds good right?!?!
I hope you give Charming a try, I am about to start reading it myself.
Good luck in the giveaway:)