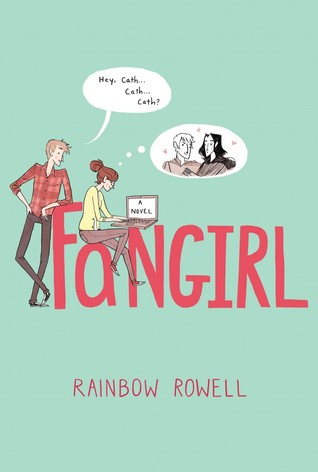 Fangirl
Rainbow Rowell
Print Edition: 448 pages
Publisher: St. Martin's Griffin; First Edition edition
Release Date: September 10, 2013)
Source: Audible

Goodreads | Amazon | Audible

Cath is a Simon Snow fan.

Okay, the whole world is a Simon Snow fan...

But for Cath, being a fan is her life—and she's really good at it. She and her twin sister, Wren, ensconced themselves in the Simon Snow series when they were just kids; it's what got them through their mother leaving.

Reading. Rereading. Hanging out in Simon Snow forums, writing Simon Snow fan fiction, dressing up like the characters for every movie premiere.

Cath's sister has mostly grown away from fandom, but Cath can't let go. She doesn't want to.
Now that they're going to college, Wren has told Cath she doesn't want to be roommates. Cath is on her own, completely outside of her comfort zone. She's got a surly roommate with a charming, always-around boyfriend, a fiction-writing professor who thinks fan fiction is the end of the civilized world, a handsome classmate who only wants to talk about words... And she can't stop worrying about her dad, who's loving and fragile and has never really been alone.

For Cath, the question is: Can she do this?

Can she make it without Wren holding her hand? Is she ready to start living her own life? Writing her own stories?
And does she even want to move on if it means leaving Simon Snow behind?
I've been mulling this book over for a few days. I can't quite decide how I feel about it. It's like I'm having a love-hate relationship with it—along the lines of "I want to love it" but still feeling like I can't quite give in to those feelings.
Cath is quirky, nerdy, and straight-up weird. Borderline crazy. And I didn't understand why Rowell picked such a neurotic voice to be the main character. But the more I learned of Cath, the more I began to understand her, feel her pains and anxieties. I began to really relate to her…and like her character. She was pretty dumb at points, and there were several, "Oh, I know where Rowell is going with this" points in the plotline, but honestly y'all, I really liked
Fangirl
.
I think of all the people in the book, Levi and Regan are my favorites. I love their dynamic, and how the embraced Cath and her idiosyncrasies and brought her into their club. I'm glad, though, that they weren't the main characters…I think that seeing too much of them together might have been a bad thing.
Cath, for all my love for her, annoyed me immensely at times. I wanted frequently to punch her in her throat and yell at her and tell her to get over herself. The obsession with Simon Snow
was
weird—I didn't understand it at all. But I do understand that people get obsessed with things. I think it was the snippets of the "books" that Rowell included—Snow is a selfish, bratty, unlikeable twerp. Which might have been on purpose. Ms. Rowell, if you read this, did you write Snow that way to be tongue-in-cheek? Please, I really do want to know.
All-in-all, Rebecca was right, this was a enjoyable story. It's a contemporary, a genre I don't read often, and even the lack of the magical, paranormal, and mystery, I would recommend this. To everyone.