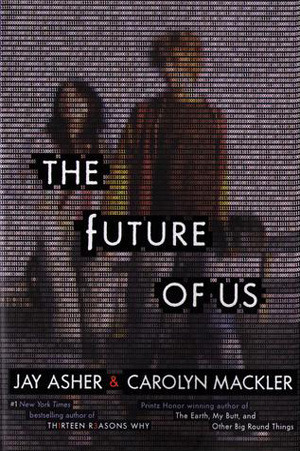 The Future of Us
Jay Asher & Carolyn Mackler
Publisher: Razorbill; First Edition edition
Publish Date: November 21, 2011
Source: Audible Goodreads | Amazon | Audible

It's 1996, and Josh and Emma have been neighbors their whole lives. They've been best friends almost as long - at least, up until last November, when Josh did something that changed everything. Things have been weird between them ever since, but when Josh's family gets a free AOL CD in the mail, his mom makes him bring it over so that Emma can install it on her new computer. When they sign on, they're automatically logged onto their Facebook pages. But Facebook hasn't been invented yet. And they're looking at themselves fifteen years in the future.

By refreshing their pages, they learn that making different decisions now will affect the outcome of their lives later. And as they grapple with the ups and downs of what their futures hold, they're forced to confront what they're doing right - and wrong - in the present.
Ok you guys…I'm a little late to the party on this one. It's been on my TBR forever, and I finally got it it the other day and listened during my commute. I finished it. And now I've mulled it over.
I LOVED
Thirteen Reasons Why
, so when I heard about this one, I added it ASAP to my TBR. However, I was a little bit letdown. I don't know exactly what I expected from
TFoS
, but I don't think I got it.
I did not like Emma for most of the book. She's bratty and annoying. Josh seems very levelheaded and real about things, albeit a teenage boy. Asher/Mackler wrote both characters very honestly and genuine, and I appreciated that. But the story as a whole just lacked
something.
I think that maybe there needed to be a prologue with a glimpse into the
actual
futures of Josh and Emma.