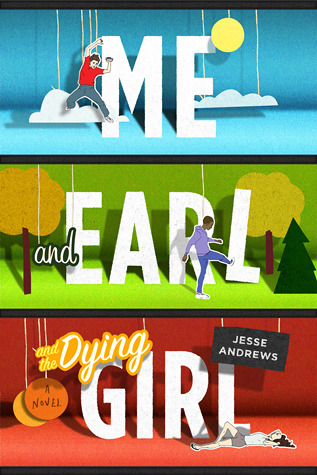 Me and Earl and the Dying Girl
Jesse Andrews
Publisher: Harry N. Abrams
Print Edition: 304 pages
Release Date: March 1, 2012
Source: Library

Goodreads | Amazon

Up until senior year, Greg has maintained total social invisibility. He only has one friend, Earl, and together they spend their time—when not playing video games and avoiding Earl's terrifying brothers— making movies, their own versions of Coppola and Herzog cult classics. Greg would be the first one to tell you his movies are f*@$ing terrible, but he and Earl don't make them for other people. Until Rachel.

Rachel has leukemia, and Greg's mom gets the genius idea that Greg should befriend her. Against his better judgment and despite his extreme awkwardness, he does. When Rachel decides to stop treatment, Greg and Earl make her a movie, and Greg must abandon invisibility and make a stand. It's a hilarious, outrageous, and truthful look at death and high school by a prodigiously talented debut author.
Y'all, when I found this, I thought it might be a little like
The Fault in our Stars.
To some extent it was. What it was not, however, is heartfelt, life-affirming, or serious.
Me and Earl and the Dying Girl
is not so much about the dying girl (Rachel) as it is about how being friends with Rachel changes Greg and Earl and their journey through this growth. It's irreverent, funny, and so strikingly honest that it will beat you about the head and neck. It reveals how teens deal with death, and sickness, in a way that you can relate and understand, but also as the same time feels genuine yet tongue-in-cheek.
Andrews writes Greg in such a self-deprecating way that at times, and there are very few of them, that you want to slap him and say, "Just get on with the story!" I do like that Greg isn't taking any of this seriously from beginning to end. I enjoyed Andrews' voice, pacing, story-telling.
MEDG
is definitely irreverent and almost offensive. But ultimately, it's a good read, lots of fun, and, if you like things a little disrespectful, you should check this out.